Laboratories
The Department has 13 laboratories for laboratory practice, 6 of which are specialized for scientific research.
Computer Networks Laboratory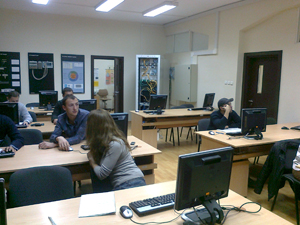 The laboratory is being modernized in 2013 with new networking equipment, a donation from Reichle & De-Massari, one of the leading leaders in passive networking equipment. In addition to computers, the lab is provided with Cisco routers and network equipment. It is designed for research and training of students in computer network and network communications disciplines, as well as the Cisco Systems Academic Program, conducted by

Linux Laboratory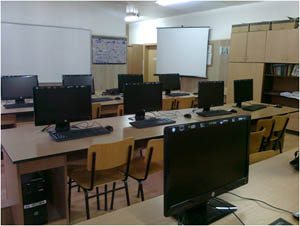 It was equipped with computers, routers and network equipment on projects with the Intergovernmental Agency on Francophonie N / Ref: PS / INTIF / fr / 20011112-050). The equipment was upgraded in 2010 and 2014 with modern computers, VLAN switches and Cisco routers. Based on virtualization platforms, it is the only "Virtual Network Lab" built in Bulgaria. The lab is designed for research and training in the field of network administration, distributed programming and the Cisco Systems Academic Program. The laboratory is a center for coordinating and presenting various activities related to free software based on the Linux operating system.




Sun Microsystems Laboratory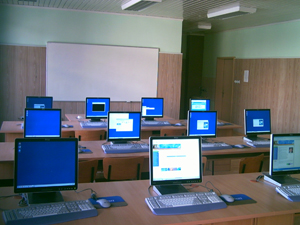 The lab is equipped with a powerful multiprocessor server machine with VMware virtual infrastructure and X-terminals, donated by Sun Microsystems. It is used for research and training in operating systems, system programming, compilers and interpreters.

Microcontrollers Laboratory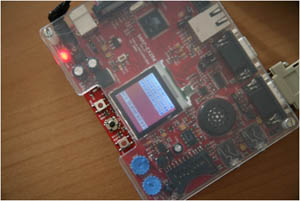 The lab is equipped by Jonson Controls with computers, microcontroller modules and a variety of control units. The laboratory conducts research and classes on computer peripherals, specialized computer systems and microcontroller systems.

Virtual Infrastructures and Mobility Laboratory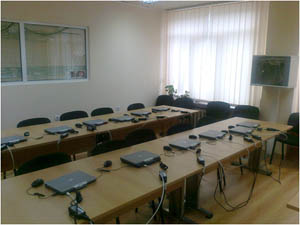 The lab is equipped by Hewlett Packard with 22 tablet PCs, mobile networking devices and multifunction office machines. The equipment was awarded as a prize for a sponsored by Hewlett Packard under their World Innovation Program in Education. The lab conducts research on virtual infrastructure creation and the organization of virtual laboratories allowing remote access via mobile communications.

FPGA Laboratory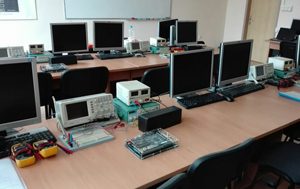 The laboratory was built in 2013 with a donation from ASIC Depot (now a part of Broadcom). The laboratory has hardware and software modules for design and simulation based on FPGA and Verilog technologies.
---