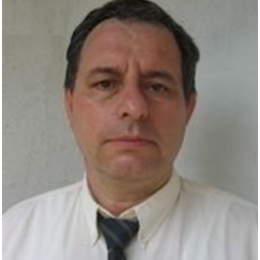 Associate Professor PhD Zhejno Ivanov Zheinov
---
zh_viv@tu-varna.bg
052 383 260
407T
Education and training
2015 PhD, Dissertation title: Analysis of the propagation down a multimode optical fiber by computer modeling
2014 CCNA Routing and Switching – TU-Varna, Bulgaria
2006 English for academic purposes course. TU-Varna. Certificate of English language qualification.
1995 Assessor of Machines and Equipment in the electronics and the electronic industry cource. Independent assessor license.
1988 Certificate for supporting of 16-bit microcomputers.
1987 Master of Science in Radiotechnics. TU-Varna.


Teaching subjects
Computer Peripheral.
Instruments for control and diagnostics.
Microprocessors.
Microprocessor systems.
Single-chip microprocessors for network application.
Devices and systems for optical communication.

Research areas
Applications of the microprocessor systems in the remote control and monitoring.
Modeling of optical communication.
Home automation and energy-saving technologies.

Publications
Z. I. Zhejnov, T. R. Tomov. Training kit for studying an Arm microcontroller. Proceeding of AESMT'22, v.4, pp.101-102. Ph "Imeon", Veliko Tarnovo, Bulgaria, 6.2022. ISSN: 2603-364X.
Zhejno Zhejnov, Tony Tomov. Arm microcontroller training kit. //MTM Machines, Technologies, Materials. Scientifictechnical Union of Mechanical Engineering, Sofia, 10/2022, pp. 344-347. ISSN Print 1313-0226, ISSN Web 1314-507X.
Todorov D., Zh. Zheynov, H. Valchanov, M. Karova, I. Penev. Investigation of the influence of a template matrix on the embedding of information in an image, Annual Journal of Technical University of Varna, vol, 5, No 2 (2021), ISSN: 2603-316X, Technical University of Varna, pp. 140-145, 2021. (https://aj-tuv.org/index.php/ajtuv/article/view/234/88).
Tomov T.R., Zhejnov Z.I. Training KIT for studying an ARM microcontroller. Proceedings of XIV International Scientific and Practical Conference "Infirmation Technology and Automation– 2021", Odesa National Academy of Food Technologies, Institute of Computer Sysytems and Technologies, Odesa, 21-22.10.2021, pp83-85.
Aлександър Цаневски, Жейно Жейнов, Инвертор с честотно управление чрез микроконтролер. //"Компютърни науки и технологии", ТУ-Варна, 2021 г., pp44-49, ISSN 1312-3335.
Жейно Ив. Жейнов, Йордан Р. Урумов. Моделиране на влиянието на деформация върху загубите в оптично влакно на Брег. XXIX Международен симпозиум "Управление на енергийни, индустриални и екологични системи". Сборник доклади. Съюз по Автоматика и Информатика - София, 11. 2021, pp. 65-68. ISSN 1313-2237.
Zhejno Zhejnov, Jordan Urumov. Influence of Deformation on Bragg Fiber Losses. ІV International Conference «Iinnovative Ttechnologies in Science and Eeducation. European Experience». Proceedings, pp.148-154. ТОВ «Дніпровський освітній центр», Украйна. 12. 2021, Университет Аалто, Хелзинки, Финландия. ISBN 978-617-7340-18-7.
Жейно Жейнов. Контролер за VLC с микрокомпютър "Arduino". Известия на Съюза на учените-Варна, Секция "Технически науки" бр.1/2020. Варна, 2020, с. 3-6. ISSN 1310-5833.
Жейнов, Жейно. Моделирование характеристик оптических волокон Брегга. XV международная конференция «Стратегия качества в промышленности и образовании», Варна, НМетАУ, IнIФН, ТУ-Варна, 2019. "Дике Поле", Украйна, с. 377-383. ISBN 978-617-7433-81-0.
Zhejnov, Z. Design and implementation of optical sensor. International Conference "Аpplied Computer Technologies" ACT 2019 - Varna. // "Компютърни науки и технологии", 2019, бр.1. ТУ-Варна, Варна, 2019, с.57-61. ISBN 1312-3335.
Жейно Жейнов. Музикално стълбище. Известия на Съюза на учените-Варна, Секция "Технически науки" бр.1/2019. Варна, 2019, с. 13-18. ISSN 1310-5833.
Жейнов, Жейно. Контроллер VLC на базе ARDUINO. XIV международная конференция «Стратегия качества в промышленности и образовании» т.1, Варна, НМетАУ, IнIФН, ТУ-Варна, 2018, с. 260-263. ISBN 978-617-7433-48-3.
Жейнов, Жейно. VLC контролер за нискоскоростна комуникация. // "Компютърни науки и технологии", 2018, бр.2, Варна, ТУ-Варна, с. 51-53. ISBN 1312-3335.

Additional information
Member of the Union of Automation and Informatics.

Languages
Russian, English, German